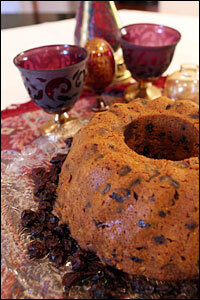 When Merry and I were discussing the theme for this year's Christmas blogs, we threw out Christmas traditions that we could comment on. I said stockings, she said elves (she got that one). I said caroling, she said pickle on the tree (she got that one). I said Rudolph (she got stuck again), and she said figgy pudding. When we drew topics, that lot fell to me.
Figgy pudding is a British equivalent of fruit cake, though without florescent/radiated fruit. It does, however, get lit on fire, which is one of two reasons it is not recommended for minors. The other would be the accelerant that makes it burn so brightly. Apparently figgy pudding can be made in November and be expected not just to last until Christmas but actually improve with age as the brandy and rum penetrates the fruit and cake.
There is nothing Christ-like about figgy pudding, except maybe that the Puritans, in the name of Christ, ban it in the 1600s, probably because of the alcohol. If we wanted to reach far enough (far-fetched, that is), we could call it a birthday cake for the baby, but that's just wrong.
If there is a connection, it's just that it's a joyous time of year - a time of celebration! Dining together on high calorie desserts is just fun and it brings us together, and that's all good. So, there. I've never had nor even seen a real figgy pudding. But if you want to make one, I'll bring matches and come celebrate with you!
We do, indeed, Wish You A Merry Christmas!